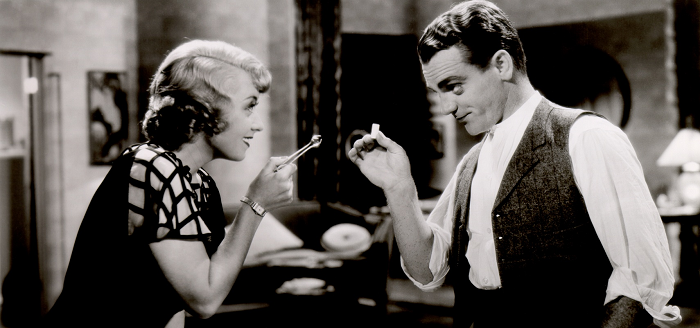 In Statement Analysis, we recognize that race, gender, age, education and intelligence all impact language. But "so doesn't region" , and so does time. ("So isn't..." was something I wasn't familiar with).

We are shifting paradigm to meet changing communication, including emails and text messages, working from new baselines.

"Say..." is probably my favorite expression from the 30's.

We might even need an interpreter for: "Say, he's my kid brother, you heel. You can't send me up the river for this!"
Early 30's terminology...some are still used but, say, did you ever see a good tomato while having a cup of joe just unwinding?
I took this list from a comical website who's talented writer comments on "pre code" movies; that is, early 30's movies where there was a code, but it was mostly ignored. These "B" movies are still a lot of fun, with some of them quite clever.
Can you think of any expressions to add to this list?
| | |
| --- | --- |
| A clambake | A boring or unsuccessful event |
| A pip | Something wonderful; also, an attractive woman (or both) |
| Aces | The best |
| All wet | Incompetent |
| And how! | "Definitely!" |
| Bad egg | Not a nice guy |
| Be yourself! | Behave, stop being silly |
| Beat it/take a powder | To leave in a hurry |
| Beat the rap | To escape punishment for a crime |
| Beau | Boyfriend |
| Beef | To complain |
| Beezer | Nose |
| Big noise | A blowhard |
| Bird | A guy |
| Blue | Sad, depressed |
| Bozo | Fool, idiot |
| Bright | Intelligent |
| Bub | Term of address to a man |
| Bunco | To con or trick |
| Bunk | Nonsense, bullshit |
| Bury the hatchet | To settle an argument |
| Bust | A miserable failure |
| Cad | A cruel person |
| Can ya beat that? | "Well, I'll be damned!" |
| Card | An eccentric character |
| Chassis | Body |
| Chicken | An attractive young woman (later shortened to "chick") |
| Chiseler | A con artist or dishonest person |
| Chum | Friend |
| Chump | A gullible idiot |
| Cinch | Something easy to do |
| Cut in | To interrupt or disrupt |
| Cut it! | "Stop it right now!" |
| Dame | A woman |
| Dandy | Wonderful |
| Darb | Something excellent or wonderful |
| Darn tootin' | "Damn right!" |
| Dish | An attractive woman |
| Doggone | Euphemism for "goddamned" |
| Dogs | Feet |
| Don't I know that? | "I'm aware of that, you idiot!" |
| Don't make me laugh! | "That's ridiculous!" |
| Don't take any wooden nickels | "Don't do anything stupid" |
| Dope | An idiot |
| Double-cross | To cheat or betray |
| Dough | Money |
| Ducky | Delightful |
| Dumb cluck | A foolish or idiotic person [also a euphemism for 'dumb fuck'] |
| Egg | A guy |
| Fella | A guy |
| For the love of Mike! | "For God's sake!" |
| Four-flusher | A cheat or liar |
| Fresh | Impudent, or smartaleck |
| From hunger | Mediocre, awful (often prefaced with "strictly") |
| Gams | A woman's legs |
| Get a load of this! | "Check this out! Watch this!" |
| Get the lead out | Get to work, get on with it! |
| Gigolo | Male prostitute- colloquially, a ladies' man |
| Glad rags | Fancy clothes |
| Good egg | A nice guy |
| Grand | Wonderful, excellent |
| Green | Naive |
| Heel/pill | A jerk |
| Hokum | Insincere nonsense |
| Hooch | Alcohol |
| Hooey/baloney | Nonsense |
| Hot dog! | "Wow!" |
| Hunky-dory/hotsy-totsy | Wonderful |
| I go for you | "I've got a crush on you" |
| I know it | "I'm aware" |
| I smell a rat | "Something very suspicious is going on here" |
| I'll be seein' ya | "See you later" |
| I'll fix it for you | "I'll arrange it for you" |
| I'll put a stop to that | "I'll solve that problem" |
| I'll tell the world! | "I agree with you!" |
| I'm from Missouri | "Prove it!" |
| I'm wise | "I understand", "I'm aware of what's going on here" |
| In a big way | Very much so |
| In a pig's eye | "Like hell!" |
| In the groove | On a roll |
| In the pink | Healthy |
| In wrong | To have a bad reputation with someone, often mistakenly |
| In your hat! | Short for "Go shit in your hat!", equivalent to "Shove it up your ass!" |
| Is my face red! | "I'm so embarrassed!" |
| It was this way | "This is what happened", prefacing an explanation |
| It's all over but the shouting | "It's practically done!" |
| It's good for what ails you | "It'll make you feel better" |
| It's in the bag | It's all taken care of, it's a sure thing |
| I've got a T.L. for you | "There's something you should know" |
| Jake | Good, fine |
| Jane | Girl |
| Joint | Place, building or house |
| K.O. | Variation of "OK" |
| Keep your shirt on! | "Be patient!" |
| Lay off | To leave alone |
| Louse | A contemptible person |
| Make it snappy! | "Hurry up!" |
| Mug | Face; or a crude disreputable person |
| Mum's the word | "It's a secret." |
| My big moment | Potential boyfriend or girlfriend |
| Nertz! | "The hell with it!" |
| Nix | "Stop!", "Don't do that!" |
| Number | A song |
| Oh yeah? | "I don't believe you" |
| Old maid | A spinster |
| On the bum | Defective or mediocre |
| On the level | Honest, sincere |
| On the make | Looking for sex |
| On the spot | In a difficult situation |
| Out of this world | Amazing |
| Palooka | A stupid or crude person |
| Pan/puss/map | Face |
| Phony | Artificial, insincere, or hypocritical |
| Piker | Cheapskate |
| Pipe down! | "Be quiet!" |
| Plenty | A lot, or to a great extent |
| Punk | Awful |
| Quit yerkiddin'!/clowning | "Stop joking around!" |
| Racket | A fraudulent business |
| Riding for a fall | Asking for trouble |
| Rub out | To murder |
| Sap/dunce | A fool or idiot |
| Say! | "Listen!", "Wait a minute!" |
| Says you! | "I disagree!", "I don't believe you!" |
| Scram! | "Get out of here!" |
| Screwball | A crazy or eccentric person |
| See? | "Understand?" |
| Sitting pretty | Carefree |
| So help me! | "I mean it!" |
| Sore | Angry |
| So's your old man! | "To hell with you!" |
| Sowing wild oats | To behave recklessly |
| Sucker | A gullible or naive person |
| Swell | Excellent, wonderful, great |
| Take a shine to | To like |
| Take the rap | To accept blame |
| That ain't hay | "That's a lot of money!" |
| That lets me out | "I would be of no help whatsoever to you in that situation" |
| That's a hot one! | "Bullshit!" |
| The berries | Wonderful |
| The low-down | Gossip |
| There are no flies on you! | "You know what you're doing!" |
| Through | Finished, or fired |
| Tickled pink | Extremely pleased |
| To be off one's nut | To act in an insane or eccentric way |
| To be on the lam | To have escaped from prison or the police |
| To be stuck on | To have a crush on |
| To be true to | To be monogamous and faithful |
| To blow one's top | To lose one's temper |
| To buffalo | To confuse or deceive |
| To call it square/square oneself | To deal with someone fairly and make things even |
| To do things up brown | To do an excellent job |
| To get one's goat | To frustrate or anger |
| To give one a tumble | To pay attention to, give one a fair chance, or to engage in physical intimacy |
| To give one the air | To contemptuously ignore or mistreat |
| To give one the runaround | To be evasive |
| To give one the slip | To evade or escape from |
| To go to town/to paint the town red | To party, have a good time |
| To gum the works | To screw up or ruin something |
| To have a bun on | To be drunk |
| To jilt | To leave or reject one's lover |
| To know one's onions | To be knowledgeable and confident |
| To lay an egg | To fail |
| To lick | To defeat, or beat up |
| To make a bum out of | To belittle or cause to appear foolish |
| To make it hot for one | To cause trouble |
| To neck | To make out |
| To pan | To denigrate or belittle |
| To pinch | To arrest |
| To pitch woo | To make out |
| To railroad | To con |
| To rate | To deserve |
| To rib | To playfully make fun of |
| To ride | To ridicule or make fun of |
| To salt away | To save in storage |
| To savvy | To comprehend |
| To settle someone's hash | To silence someone |
| To slip one a mickey | To poison one's drink |
| To sock | To punch |
| To spill the beans | To reveal a secret |
| To spoon | To kiss |
| To turn turtle | To overturn or change around |
| Tomato | An attractive young woman |
| Toots | Term of address to a woman |
| Washed up | A complete failure |
| Well-heeled | Rich |
| Wet blanket | A spoilsport |
| Whadaya know about that? | "That's a surprise to me!" |
| What of it? | "What's your point?" |
| What's eatin' you? | "What's bothering you?" |
| What's the [big] idea? | "What the hell do you think you're doing?" |
| Whoopee! | Exclamation of joy or euphemism for physical intimacy |
| Wouldn't you like to know? | "I'm not telling!" |
| Yellow | Cowardly |
| Yen | Desire |
| You ain't just whistling Dixie! | "You're not kidding!" |
| You bet! | "I agree with you!" |
| You don't know the half of it | "You can't imagine how bad it really is!" |
| You don't say! | "Really?!" |
| You said it! | "You're absolutely right!" |
| You want to make something out of it? | "Are you trying to start a fight?" |
| You're telling me! | "You're not kidding!" |
| You've got me all wrong | "You misunderstand me!" |