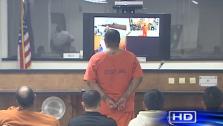 Matthew Sowders is now charged with capital murder in the death of Melissa Sowders, a pregnant Texas mother of four who went missing last week.
from local ABC affiliate:

Thursday afternoon, Matthew Sowders, 28, was arrested and charged with capital murder.The body has not yet been officially identified, but family members tell Eyewitness News they're confident it's Melissa, since detectives asked them about a tattoo.
Please note that we did not have much to go on. The boyfriend's statement indicated a belief that she was dead. What did he know about the estranged husband? It may be that Melissa shared just how violent he was. Something caused the family to lose hope quickly. Now we know.

We did not have much to go on but:
The estranged husband did give us something to look at:
http://statement-analysis.blogspot.com/2014/01/melissa-sowders-ex-husband-statement.html
It is short, but the word "just" should be viewed.

EquuSearch said they nearly gave up efforts to recover her Thursday morning, after an intense six day search in and around Cypress Creek. But that crew says something told them to come back out to an area of the creek, about half a mile east of I-45, where they picked up sonar images.
Sowders is the pregnant mother of four, who mysteriously disappeared on December 26 after meeting her estranged husband at a nearby McDonald's on FM 1960, where she was supposed to pick up their children.
This local ABC reported that the boyfriend was the last to see her. This was not correct information.
Sowder's family says they're confident the victim will be identified as the missing mom, and they're relieved investigators didn't give up.
Melissa's cousin Michelle Bierman said,"EquuSearch did a tremendous job. They're a Godsend. We couldn't have done this without them. They are forever in our hearts and will be a part of our family."
Note that many readers here are familiar with, and support, Texas Equasearch after learning of their work in the case of murdered baby, Caylee Anthony. Sowders was not cooperating with police, though his lawyer said he was not involved.
The estranged husband stopped cooperating with police.

When someone stops assisting or cooperating, there is a reason.